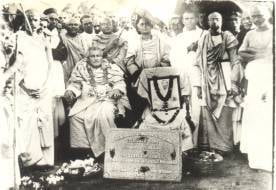 Vaniyambadi in North Arcot, Tirupattur District, Tamilnadu is the place where Vani, the Goddess of Learning, who had lost the faculty of speech through Brahma's curse, regained it through the blessings of Lord Shiva.
Indeed, history repeats itself.
The Shiva in Swami Vivekananda inspired a good soul, Sri Venkatasami Naidu of hitherto dumb Vaniyambadi. Thereafter, the Voice of Vaniyambadi reverberated through North Arcot District. Sri Venkatasami Naidu was an ardent social reformer.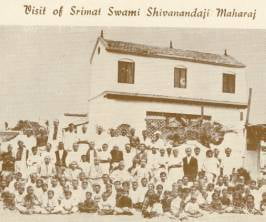 The photograph of a monk in a Tamil daily stole his heart; he was thrilled by the speeches of the monk. It was none other than Swami Vivekananda, the Lion of Vedanta. Sri Naidu was overwhelmed by the essence of Sawamiji's message. The service mentality in him began to bloom. He gave away all his wealth to the poor around. He memorised Swamiji's speeches. Clad in saffron and sporting a turban, he dressed up like Swamiji and reproduced these speeches in Tamil, with verve and gusto to an ever-increasing audience. He would conclude, "So said Swami Vivekananda in America". It was much later that he came to know of Sri Ramakrishna.





Thus was sown the seed of the Ramakrishna Order in North Arcot District of Tamil Nadu out of the many Vivekananda Societies started by Sri Naidu and his friends, the one at Nattarampalli alone has become a full-fledged Math.




Three singularly like-minded brothers, Sri C. Samundi Gounder, Sri R.Thayappa Gounder, Sri R C Hanumantha Gounder and Sri R C Vadigi Gounder donated a piece of land. A small building was erected with the financial assistance of Rs 500/- each from Sarva Sri Venkatasamy Naidu, Chamundi Gounder, Mylarampatti Gounder, Thayappa Gounder and Rangasamy Naidu. Today the Math is a sprawling complex of more than three acres.

The Math has been sanctified by the visits of the direct disciples of Sri Ramakrishna,
Swami
Abhedananda in 1906, and Swami Sivananda in 1924 and 1926. Swami Vishuddhananda, a direct disciple of the Holy Mother, graced the Math in 1919 and formally elevated this Centre to an affiliate of the Ramakrishna Mission, Belur. Mahatma Gandhi visited the Math in1934 and was immensely pleased with its activities.
Thus the Math, founded in 1908, has been moving from strength to strength under the guidance of distinguished monks as its Heads.
Activities

In and around Nattarampalli there is no area of service where the imprint of the Math cannot be seen. To cite a few:

Spiritual Activities

Rural Charitable Dispensary

Sri Ramakrishna Vidyalaya




Swami Shivananda Students' Home

Book Stall

Free Special Coaching Center

Programme for Women Empowerment and Progress
For almost a century now, this center has been serving Nattarampalli and the hundred odd surrounding villages in all spheres, be it flood/ drought-relief, hygiene and health care, family welfare, orphan-care, education, employment and womens' empowerment, etc. It strives towards achieving overall rural development true to its motto - 'For one's own self realization and for the good of the world'. ('Atmano mokshartham jagaddhitaya cha' – the thumb rule given by Swami Vivekananda.)